Puerto Rico remains under tropical storm warning after Hurricane Fiona dumped more than 2 feet of rain over the weekend.
More flooding and landslides are expected on Monday as intense rains are expected to continue through the end of Tuesday.
Since Puerto Rico is still in the emergency relief phase after Fiona, the island does not yet need humanitarian assistance, Gov. Pedro Pierluisi said in a news conference on Monday.
"We need help with first responders," he said, adding that New York Gov. Kathy Hochul has already vowed to send 100 first responders to Puerto Rico.
Pierluisi said Puerto Rico has 4 warehouses stocked with enough food and water to last during the emergency response phase and stressed that humanitarian assistance may be needed once the island enters its recovery phase.
The governor is hoping for an initial damage estimate after the tropical storm rains cleared on Tuesday, a process required for Puerto Rico to seek a formal disaster declaration that would free up additional resources to help the island with recovery efforts help, he said.
President Joe Biden declared a federal emergency on the island Sunday, allowing FEMA to step in with emergency response.
Most of Puerto Rico's nearly 1.5 million electricity customers are left without power. According to Luma Energy, the company responsible for power transmission and distribution in Puerto Rico, power was restored to about 100,000 customers as of Monday afternoon.
While government officials said no deaths from hurricanes had been reported as of Monday morning, a 70-year-old man from the city of Arecibo died from fire-related injuries after a generator he was using blew up. Rescue workers said the man tried to refuel his generator while it was still on, causing the machine to explode.
Pierluisi said two other people who died in shelters during the hurricane were believed to have died of natural causes; But officials are waiting for the Institute of Forensic Sciences to confirm if that's the case.
On Monday afternoon, a 58-year-old man was found dead after being swept away by currents from the La Plata River in the city of Comerío, Telemundo Puerto Rico reported.
Heavy rains left "unprecedented water accumulation in some areas," but towns in the mountainous region of the island's center and southern region were hardest hit.
In the southern city of Ponce, a family lost everything after floodwaters drowned their home and the roof was blown off by hurricane winds.
"As you can see, it's a disaster," Carlos Jimenez, who lives in the home, told Telemundo Puerto Rico in Spanish. "I know I'll get up from this, but it's tough."
Disastrous flooding has ravaged much of Puerto Rico after Fiona made landfall around 3:20 p.m. Sunday. An island-wide power outage was reported about an hour earlier as the hurricane's eye neared the southwest coast of Puerto Rico.
The devastation and power outage mirror the aftermath of Hurricane Maria, which made landfall five years ago this month and was the deadliest natural disaster to hit US territory in 100 years.
Jayson Martínez, mayor of the southwestern city of Lajas, estimates it could take 2 to 3 months for power to be restored in his city due to the damage he saw Monday.
"I hope I'm wrong," Martínez, a former Powerline employee, told Telemundo Puerto Rico in Spanish. "I worry that if we have a lot of blue tarps left, we will have more blue tarps," he said, referring to the destroyed homes that have not been rebuilt since Maria in 2017.
On Monday, the National Weather Service in San Juan urged locals to "hit high ground immediately" due to ongoing flash flooding, which is expected to worsen with the torrential rain.
Bands of showers and gusty winds of 30 to 40 miles per hour are expected to descend on the island on Monday, particularly in the south, from Guayama to Ponce, the weather service said.
At least two bridges have collapsed after the Category 1 hurricane devastated Puerto Rico, one in the city of Utuado and one in Arecibo.
Almost 66% of all water service customers, over 830,000 customers, had not restored service by late Monday morning, according to the government's PREPS page.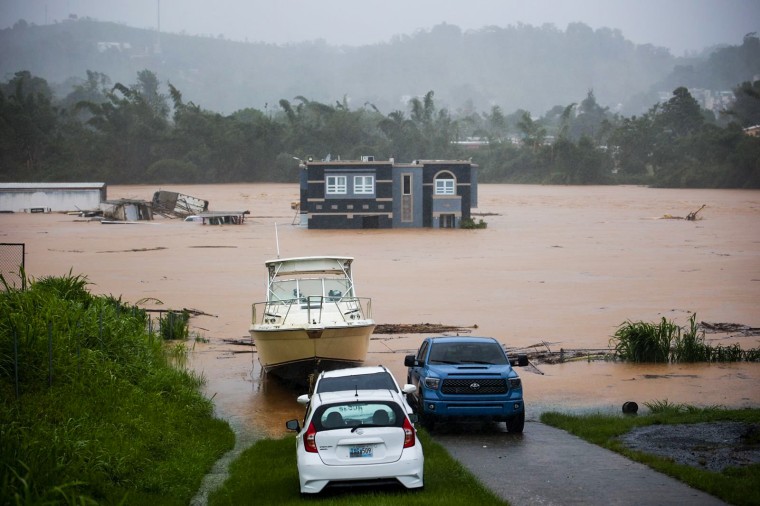 People at a home in Cayey await rescue Sunday from the flooding caused by Hurricane Fiona in Puerto Rico.Stephanie Rojas/AP
Ponce's Mercedita International Airport remains closed due to flooding. Muddy water in the area caused mudslides in some neighborhoods, forcing some people to hold on to poles in the waist-deep water.
Smaller airports in Mayaguez, Arecibo and Humacao are not yet operational, according to the PREPS site.
Puerto Rico's main airport, Luis Muñoz Marín International Airport, resumed operations Monday morning, but some airlines have opted to cancel some of their flights to and from Puerto Rico.
Another small airport also resumed operations in Aguadilla.
On Monday morning, Fiona made landfall in the Dominican Republic, most recently 35 miles southeast of Samana, with maximum sustained winds of 90 miles per hour, according to the National Hurricane Center.
The storm is expected to bring hurricane conditions to the Dominican Republic on Monday, with a hurricane warning in place from Cabo Caucedo to Cabo Frances Viejo and Turks and Caicos Islands. A tropical storm warning was in effect for Puerto Rico, including Vieques and Culebra, as well as the north coast of the Dominican Republic and the southeastern Bahamas.
Fiona is expected to head northwest through Monday night, turning north-northwest on Tuesday and north on Wednesday, the hurricane center said.
The storm is expected to sweep across the eastern portion of the Dominican Republic early Monday, with its center passing near or east of Turks and Caicos on Tuesday.