And they're everywhere this time of year, popping up in churches, in stories, and on TV.
But according to Irania and Martin McGroarty, founders of Farmersfield Rest Home for Elderly Donkeys in Dunscore, they have so much more to offer than just the Christmas connection.
Donkeys are a passion for the couple 365 days a year. Not only do they care for the 'beasts of burden' in their twilight years, but they also successfully use them to help others through their Animals Supporting People therapy ministry.
Irania said: "They are very cute, they are fabulous, just amazing. Donkeys are so gentle, loving, playful and curious. If he had been in that stable in Bethlehem, the donkey would have watched everything.
"We do animal assistance therapy with them and they are very suitable for it. People with intellectual disabilities, with autism, who have experienced trauma come here and the donkeys are very happy to be part of the healing process."
Iraina and Martin have run the charity since 2014 and it is the only donkey sanctuary in Dumfries and Galloway.
"It's an affair of the heart, we love it," Iraina said. "You are our family.
"It's a lifestyle, we're out in the fresh air all day, every day, that keeps us fit. We get so much fulfillment from the donkeys."
Before starting her own 'rest home' Iraina was welfare officer for the Donkey Sanctuary in Devon.
But her affinity for the animal dates back to childhood: "My first memory of a donkey was when I was three years old and I wanted a donkey, I don't know why," she said. "When we moved from Glasgow the first thing we got was Daphne and very quickly her companion Paddy."
Their limit is 23 and they currently have 18 residents, most of whom have previously been pets and hail from across Scotland and Northern England.
Iraina said, "Nowadays abuse isn't really about it, it usually comes from people whose lives have changed or who are doing poorly or downsizing.
"They are beloved pets that need a home. This is their permanent home until the end of their lives."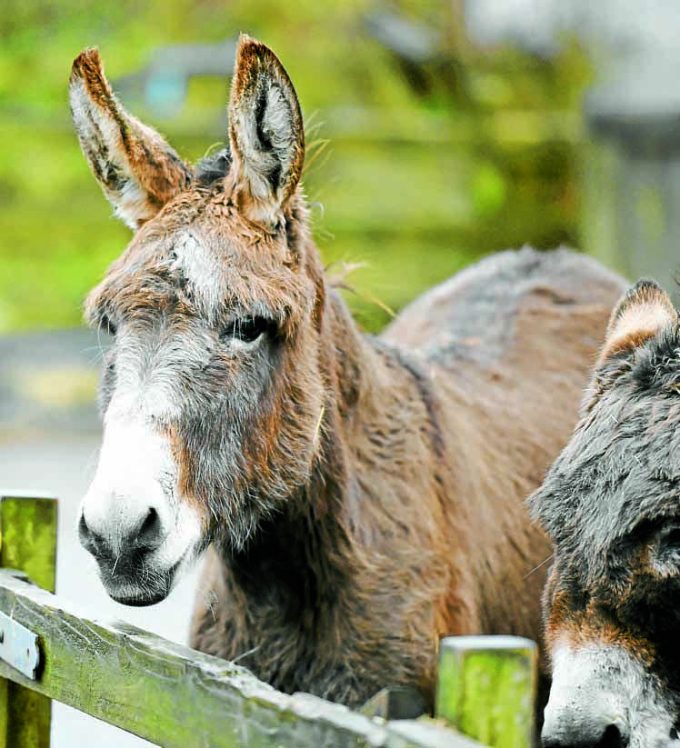 According to the Donkey Sanctuary, the average life expectancy is 28 years, but there is a documented story of one reaching their early 50s, and Iraina has known of donkeys in their 30s and even 40s.
As such, she wants potential owners to be aware of their requirements, saying: "They are hardy but they don't have waterproof fur as they evolved from arid desert areas. They're designed for dry ground, so their feet just soak up the mud on our wet ground.
"Another problem can be their digestive system, they are meant to survive on desert plants, so they can easily become obese and have major problems with laminitis.
"We keep them well here and give them special feed. We take special care of your feet and teeth. It's constant.
"But we don't breed and all the boys are neutered."
Explaining further about their nature, she said: "People think donkeys are beautiful all the time, but that's only the case when they're treated and treated with kindness and fairness."
"They can be extremely pushy, they are incredibly strong pound for pound and if left untreated they become thugs.
"They can kick and bite, but a good donkey is wonderful."
Three generations of the family live at Farmersfield and they have young volunteers dropping by throughout the week to help and regular visitors who enjoy spending time with the donkeys.
The animals are also well known locally, Martin jokes they are even "local celebrities" and have visited hostels in the past and one even helped with a raffle draw.
It is this local interest and support that is helping the charity through these difficult financial times.
A successful open house weekend in November raised over £1000, which is much needed as feed and bedding costs soar.
"People are generous, they know every penny goes on the donkeys," Iraina said. "We want them to have a high quality of life."
And there is always room for the Farmersfield family to grow and anyone who needs to bring back a donkey or is looking for support is asked to get in touch via social media or the website.